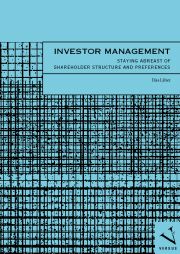 Investor Management
Staying Abreast of Shareholder Structure and Preferences
L盲ber, Ilias
ISBN 978-3-03909-017-4
1. Auflage
erschienen in 2004
Sprache E
339 Seiten
broschiert

Zum Buch
Traditionally, the focus of investor relations has been on reducing information asymmetries between corporate managers and the financial community through timely and accurate disclosure of all share-price-relevant information. The research presented in this book suggests corporate managers can do more to reduce valuation gaps and excess stock return volatility. These enhanced investor relations activities are subsumed under the term investor management, which, besides corporate disclosure, comprises active management of the ownership structure and investors' preferences.
The focus of this book is investor identification and segmentation. Knowing and understanding the ownership base is a necessary prerequisite for investor management. Ilias Läber provides the theoretical basis for investor management and assesses the feasibility of its use by large Swiss companies by discussing the following questions:
Does it make sense for companies to manage the investor base?
To what extent are large Swiss companies proactively managing their investor base?
Is it possible for Swiss companies to systematically identify the most critical investors?
Zitat
As described in this book, Investor Management makes an important contribution to increasing the efficiency of share price formation, and thus supports the value-based management of companies and – at a macroeconomic level – the optimal allocation of financial resources.
Prof. Dr. Rudolf Volkart

Inhaltsübersicht

Chapter 1: Introduction

PART I: INVESTOR MANAGEMENT
Chapter 2: Situation and trends in investor relations
Chapter 3: Investor management in Switzerland
Chapter 4: Segmentation of institutional investors

PART II: OWNERSHIP STRUCTURE AND MARKET EFFICIENCY
Chapter 5: Institutionalization of equity ownership
Chapter 6: Institutional investors and market myopia
Chapter 7: Boundedly efficient markets and market value creation

PART III: INVESTOR IDENTIFICATION
Chapter 8: Approaches to investor identification
Chapter 9: Share register and external data providers
Chapter 10: Investor identification in Switzerland

Chapter 11: Final discussion

Appendices
References
Index

Der Autor
Ilias Läber (1974) studied electrical and business engineering at the Federal Institute of Technology (ETH) Zurich. During his studies he worked part-time at UBS Warburg. Following completion of his engineering studies at the beginning of 2001, he worked for the Corporate Finance & Strategy Practice of McKinsey & Company, Switzerland, where he was involved in projects in Switzerland, Luxembourg and Germany. After further studies in finance and doctoral studies at the Swiss Banking Institute of the University of Zurich, he rejoined McKinsey & Company at the end of 2003. Ilias lives with his wife and baby daughter in Oberehrendingen, Switzerland.